Blogging
Understanding the opportunities for education and research afforded by blogging
Content & learning objectives
In this lesson, you'll learn about the range of possible educational applications of blogs and similar tools (eg journals). The applications include the development of a researcher's professional profile as well as the scope for students to develop their writing skills.
A variety of blog platforms are available, many of which have free to use (though often subsidised through advertisements) options. In addition, institutional Virtual Learning Environments/Learning Management Systems usually have inbuilt blogging and journaling tools.
Click on the image to take an introductory lesson, which on successful completion will enable you to claim a digital badge.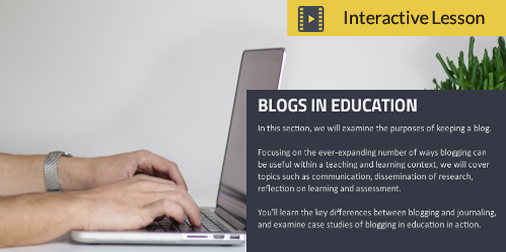 Resources for learners, trainers, and developers
Are there badges available for this topic?
How can we run a workshop or classroom session on this topic?
A useful workshop session would focus on the various applications of blogging, demonstrate the platforms available, and hear from those with experience in the area. It is also worth considering developing blogging skills and experience in association with a broader communications strategy, particularly for those who might wish to raise their research or public engagement profiles.
Are there resources and materials available?
Yes. There is no shortage of resources available online, but most important of all is simply to explore the various examples of different types of blogs.
Can I download a copy of this interactive lesson?
Yes. We provide all the materials which we have developed (or adapted, subject to licence permissions) for use under a CC BY-NC 4.0 licence.  We will shortly be making downloadable SCORM versions available here.