Design Thinking
A creative and systematic approach to tackling challenges & projects
Content & learning objectives
Design Thinking is a way of approaching problems, challenges, and developing projects. It uses ideas and principles from a variety of sources, but emphasises creativity, engagement, and experimentation. The design company IDEO, have been the primary proponents of the approach and describe the process as being: Human-centred (based on empathy and understanding needs); Collaborative (benefiting from multiple perspectives); Optimistic (believing that we can create change and solve problems); and Experimental (learning from doing).
In this lesson we will explore Design Thinking and consider how it might be useful in education, both to undertake projects, and as a form of team-based learning.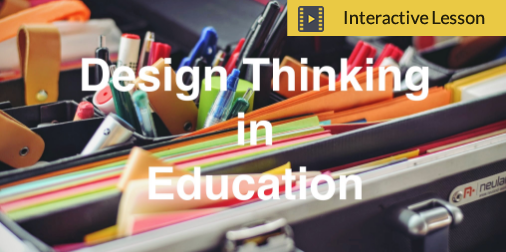 Resources for learners, trainers, and developers
Are there badges available for this topic?
How can we run a workshop or classroom session on this topic?
This is an ideal subject for a workshop since much of Design Thinking is based on collaboration and experimentation. The resources provided in the Toolkit are useful for developing a workshop session.
Are there resources and materials available?
Yes. There are many online resources, videos, and books available on this topic and its application to education. You can start by downloading the Toolkit, but also by doing a simple web search.
Can I download a copy of this interactive lesson?
Yes. We provide all the materials which we have developed (or adapted, subject to licence permissions) for use under a CC BY-NC 4.0 licence. You can download this lesson as a SCORM package by clicking here. Copyrighted (third-party) images and content are excluded from the downloadable version.