The Digital Scholar
How technology is transforming scholarly practice
Content & learning objectives
"Digital scholarship is a shorthand for the intersection of three technology related developments: digital content, networked distribution and open practices. It is when digital, networked and open intersect that transformational practice occurs. In this free course (provided by the UK's Open University), The Digital Scholar, you will explore the impact of digital technologies on scholarly practice." The course is based on Martin Weller's book and it is estimate to require 3 hours work per week for 8 weeks if you wish to pace it in this way and cover all the content and activities.
After studying this course you will be able to:
understand what is meant by the term 'digital scholarship'

recognise Boyer's scholarship framework

consider new approaches to research afforded by digital scholarship

understand how digital, networked technology can influence public engagement

appreciate the influence of the recent MOOC development.
This online course is available under an open license and you can take it at any time or pace that suits you.
Resources for learners, trainers, and developers
Are there badges available for this topic?
Yes.  The Open University provides a digital badge for those who satisfactorily complete this mini-course.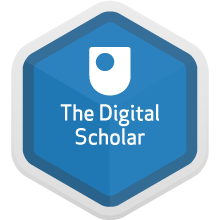 How can we run a workshop or classroom session on this topic?
This is a broad ranging set of themes and topics, each of which has considerable scope for workshops, discussions, and reflection on practice. One potential approach is to work through the online course in a group, sharing blogs and reflections and creating a 'community of inquiry'.
Are there resources and materials available?
Can I download a copy of these materials?
Yes. The Open University has released this content under a CC BY-NC-SA licence.  We will shortly be making downloadable SCORM versions available here.