Essentials of Graphic Design
An introduction to some basic key ideas that are crucial to designing effective materials
Content & learning objectives
Graphic Design can be defined as a "form of visual communication" which combines images, words, signs and symbols to convey a message or idea to an audience. We encounter graphic design in everyday life; when we pick up a magazine or book, in the billboards and signs we pass on our route to work, in advertisements, websites and more.
By incorporating the fundamental design elements of line, colour, texture, typography, space and form alongside the main principles of design, graphic design "intensifies the message and enriches the audience's experience".  These elements and principles of design will be explored in this lesson, alongside considerations of how you might apply such ideas in educational contexts.
You can access the lesson by clicking on the image (to the right) and if you successfully complete the activities and quiz, you can earn a digital badge.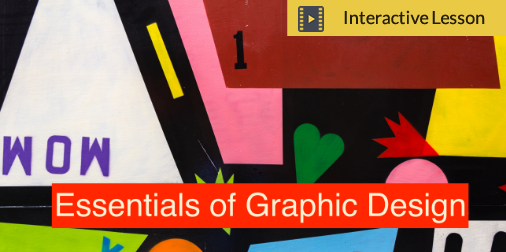 Resources for learners, trainers, and developers
Are there badges available for this topic?
How can we run a workshop or classroom session on this topic?
This topic is perfect for workshop sessions, enabling participants to get first-hand experience at applying the principles of graphic design to their own content. 
Are there resources and materials available?
Yes. We have collated some useful links for you (opposite) but there is no shortage of information in the form of websites, videos, and books. 
Can I download a copy of this interactive lesson?
Yes. We provide all the materials which we have developed (or adapted, subject to licence permissions) for use under a CC BY-NC 4.0 licence. Y