Online Security
Taking care with your identity and avoiding scams and malware
Content & learning objectives
In this lesson, you'll explore some of the critical issues regarding protecting your identity and data, as well as learn about real security threats that everyone must protect themselves against when using online tools and services.
Some of the techniques whereby groups can get your passwords, credit card numbers, and other vital information, will be mentioned, with some example case studies, and ways in which you can minimise such risks to yourself.
Click on the image to take our interactive online lesson (adapted from & remixed as per licence, from an Open University (UK) resource) and if you successfully complete it and the associated quiz, you can earn a digital badge.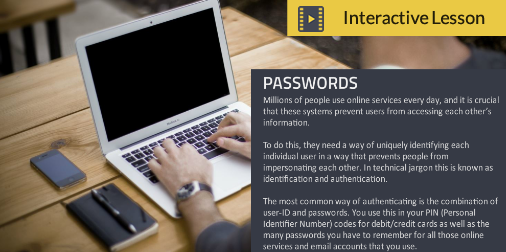 Resources for learners, trainers, and developers
Are there badges available for this topic?
How can we run a workshop or classroom session on this topic?
A useful approach would be to ask participants to work through an audit of their various accounts, passwords, security settings, and anti-virus protection. Reminders of the key threats are often more powerful when accompanied by recent news items and case study examples. In addition, participants should be encourage to spread this good practice to their colleagues and family members.
Are there resources and materials available?
Yes. We have collated some useful links for you (opposite) but you will also find up to date information on viruses, phishing attacks, and other scams in the websites of major companies and organisations, such as those of providers of ant-virus software, national police services, banks and software companies.
Can I download a copy of this interactive lesson?
Yes. We provide all the materials which we have developed (or adapted, subject to licence permissions) for use under a CC BY-NC 4.0 licence. A SCORM package for download will be available shortly.