Student Partnership
Projects, activities, internships, and other partnership work
Ambassadors, Champions…
One of the most inspiring aspects of a project such as All Aboard, has been the opportunity to work with (and be energised by) enthusiastic, dynamic and helpful students. Examples of the partnership projects that have been undertaken include:
Digital Ambassadors: A scheme that involves specialist skills training & development, coupled with placement/internship opportunities in various parts of our institutions (eg the Library, Student Services, Media Services, etc).
Digital Champions: A collaboratively organised series of events around areas of student interest (eg. digital identity, online safety, video production, design) and the development of expertise and recognition.
Would you be interested in running a similar scheme in your institution? Well, now you can! Just download our Engagement Toolkit for lots of ideas about workshops, topics, and hints and tips for organising events.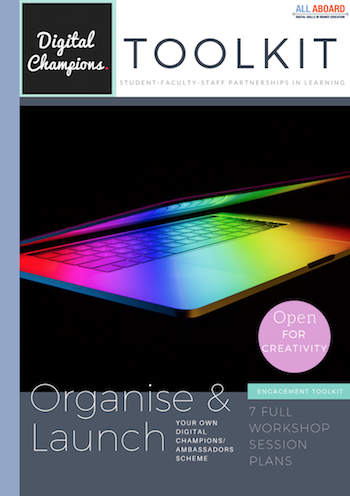 Digital Champions

Digital Champions, launched in 2016, is a staff and student partnership programme running in NUI Galway and co-funded by Explore. We're looking for enthusiastic students who would like to be part of a campaign to help improve people's awareness and confidence in using digital technologies. One of our main areas of focus is on Digital Identity & Wellbeing, and we'll be working in collaboration with staff and students in other institutions in Ireland and beyond.
Digital Ambassadors

During the initiative, ambassadors will be prompted to reflect on their own digital skills, and how the application of these digital skills may vary in personal, professional and social contexts. In the development of this initiative a student partnership approach has been employed and the voice of the students themselves is key and has indeed informed some of the themes and ambassadorial activities that they will have the opportunity to participate in.