Visitors and Residents
Engaging with digital tools and services
Content & learning objectives
In this lesson you'll discover a different perspective to that of the well-known 'digital natives' and 'digital immigrants' narrative, uncovering in the process, the weakness of that initial proposal.
By clicking on the image, you'll be taken to a structured walk-through of the basic idea of 'Visitors & Residents', where you'll hear from one of the originators of the model and find links to additional readings, as well as seeing examples of how the model can be put to practical use. If you complete the lesson and the activities, then you will qualify for the award of the V&R digital badge.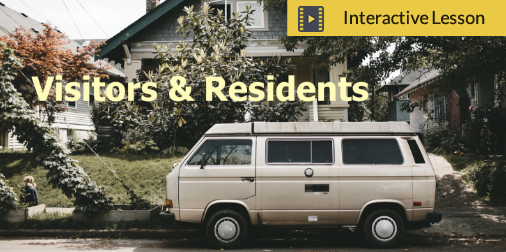 Resources for learners, trainers, and developers
Are there badges available for this topic?
Yes. There is a basic knowledge badge, awarded to anyone who successfully completes the online lesson and quiz, but it is also possible to obtain a badge from participating in a full workshop on V&R mapping at individual and at organisational levels. All Aboard! specifies the criteria for this badge and it can be issued by a registered workshop provider/staff developer.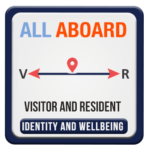 How can we run a workshop or classroom session on this topic?
This is an ideal subject for a workshop since the drawing and sharing of individual maps can stimulate debate and discussion. It can also be extended to analyse organisations and services.
Are there resources and materials available?
Yes. The developers of the V&R approach have produced a comprehensive set of resources including slides, suggested activities, additional readings and plenty of past examples of maps. You can access them here.
Can I download a copy of this interactive lesson?
Yes. We provide all the materials which we have developed (or adapted, subject to licence permissions) for use under a CC BY-NC 4.0 licence. You can download this lesson as a SCORM 1.2 package to install in your VLE/LMS/website by clicking here. If you would prefer it in an xAPI Tin Can format then download by clicking here.